It would be amazing if we were all able to read our partner's mind when it comes to sex. It would be even better if we were simply naturals at all things sex related. The problem is that we aren't. We have to work hard to develop our sexual skills, and sometimes that involved turning to the internet in search of the best sex tips.
The internet can be an amazing place at times. You can find anything with just a quick search, including the best sex tips. I take a look at some of the best sex tips the r/sex community has to offer so you can try them out for yourself.
Be vocal and enthusiastic
A number of the best sex tips discovered on the r/sex community seem to be similar, showing just how vital this information is that they have shared. For example, taking a look at the comments you can clearly see that enthusiasm is a big deal in bed.
Umthingsandstuff tells us that "the most important thing to bring to sex is enthusiasm". Your partner needs to know that you are into it. If they don't, then they might just wrap things up quickly so that they can move on to something else.
This is why it is important for you to be vocal in the bedroom. In my experience, the men I've slept with have tended to be quiet until the very end. Up until that moment I've been left wondering if they were actually enjoying it. For FredRN it was a case of feeling "self conscious" and "weird" about it, but that "it kinda grows on you". If you are the silent type in bed, try speaking up next time. It'll make a huge difference!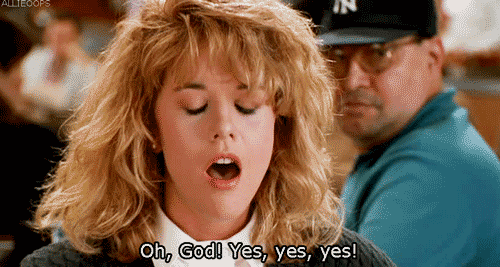 The importance of listening and communicating
Something that I have said over and over again since I first started writing about sex is how important communication is. If you don't make your partner feel as though they can tell you anything about sex, how will they open up to you about what they want?
Packerfan470 notes how important this is. They state that, for them, the most important thing is communication because "it makes everything easier in the long run". You know exactly where you stand if your partner tells you what they do and don't want.
It is important to note that, whatever your partner tells you, you need to listen to them. For my_main_I_promise, the distinction is clear. For example, "when she says "Keep doing that…" you keep doing just that." Far too often I have found that my partner has gone harder or faster when I've used these words, which can ruin the mood. If your partner tells you to keep doing what you are doing, listen. Don't change things!
Giving oral sex
We know that a large number of women cannot reach orgasm from penetration alone. This is why it is vital to work on things like your oral sex skills. A number of the best sex tips found on the subReddit are specifically about oral.
Pubic hair can be an issue for some during sex. However, TenPercentMoreBanana points out an ingenious way of dealing with it without making it a big deal. They state that "if you get a stray pube in your mouth manoeuvre it onto your tongue and lick/kiss her legs to get rid of it subtly". You deal with the issue and avoid making your partner massively self-conscious about their body. It's a win/win situation.
Of course, the comments don't all focus just on cunnilingus. Some talk about blowjobs, and purple_scarf says that the best advice they found explained that "stimulating the underside/the head is where the most sensation is", They also point out that "it's good to use your hands too" in order to ensure you are really paying attention to your partner's body.
The focus of sex
When it comes to sex, most of us will think about one thing: the orgasm. For some reason people seem to believe that this is the whole point of sex. A number of people believe that sex ends when the man reaches orgasm, or that sex can't be satisfying without one.
This isn't the case, as ArrowRobber points out. They say that we shouldn't "get hung up on if you / they will orgasm. Enjoy the moment for what it is." Sex can still feel amazing even if you don't orgasm, as you will have learned something new!
This is why you shouldn't fake it. One Redditter says that you should definitely "not fake it til you make it", as it is more important to "be genuine authentic and honest". It is a lot better in the long run to not fake your orgasms, as otherwise you are sending your partner a message that they know how to get you off when they don't.
The best sex tips
The internet is a gold mine when it comes to the best sex tips. In fact, on the Escort Wales blog we have plenty of great advice of our own for you to check out. Why not take a look and see what you can learn?
What is the best advice you've ever heard when it comes to sex? Did you learn something to completely change sex? Tell us all about it by leaving a comment in the box below.
Lara Mills is a writer who has four years of sex industry expertise behind her. Since she entered the adult industry, she has worked on the Escort Advertising forums, before moving into her current role three years ago.

Since then she has gained a fine reputation with her blogs on sex advice, sexual health and amusing news stories from around the globe. She is also a campaigner for the rights of sex workers from all over the world.

In her spare time, Lara keeps herself active by going running, and is something of a film buff. She also loves to go travelling.
Latest posts by Lara Mills (see all)